आंसुओं के फूल : पी० सी० आजाद द्वारा हिंदी पीडीऍफ़ पुस्तक – कहानी | Aansuon Ke Phool : by P. C. Azad Hindi PDF Book – Story (Kahani)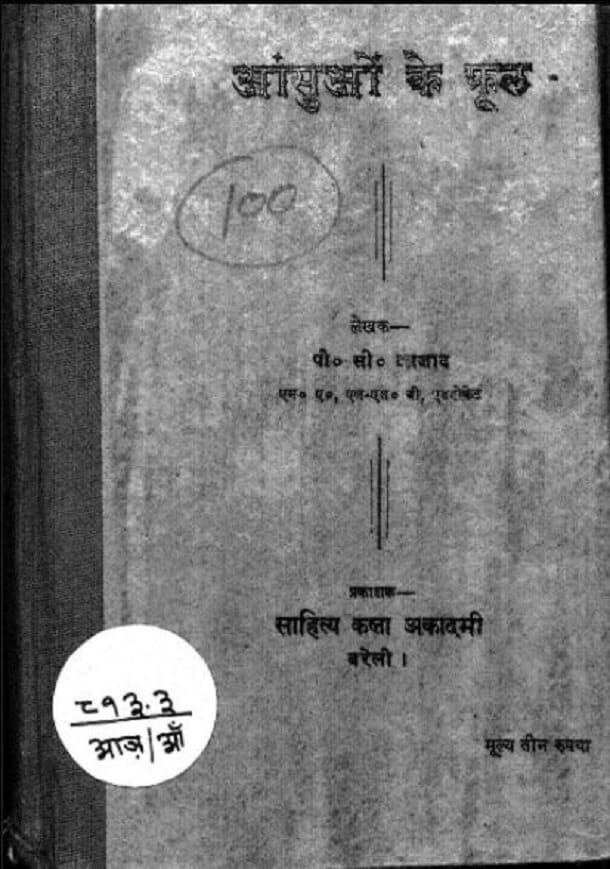 | | |
| --- | --- |
| Pustak Ka Naam / Name of Book : | आंसुओं के फूल / Aansuon Ke Phool Hindi Book in PDF |
| Pustak Ke Lekhak / Author of Book : | पी० सी० आजाद / P. C. Azad |
| Pustak Ki Bhasha / Language of Book : | हिंदी / Hindi |
| Pustak Ka Akar / Size of Ebook : | 79 MB |
| Pustak Mein Kul Prashth / Total pages in ebook : | 225 |
| Pustak Download Sthiti / Ebook Downloading Status : | Best |
(Report this in comment if you are facing any issue in downloading / कृपया कमेंट के माध्यम से हमें पुस्तक के डाउनलोड ना होने की स्थिति से अवगत कराते रहें )

Pustak Ka Vivaran : Jel Se Chhootane ke Pashchat Aajad sahab ne Pt. Jawahar Lal Nehru se Patra vyavhar dvara apna sampark lagatar sthapit rakkha. Vah Samay samay par Rajneeti, Sahity aur apni vakalat ke sambandh mein unase paramarsh lete rahe. Jab Aajad sahab vidhan parishad ke sadasy the to ek bar san 1960 mein unase bhent karane nayi Delhi gaye the………..

अन्य कहानी पुस्तकों के लिए यहाँ दबाइए- "कहानी हिंदी पुस्तक"
Description about eBook : After his release from jail, Azad Saheb constantly established his contact with Pt. Jawaharlal Nehru through correspondence. From time to time, he consulted her regarding politics, literature and his advocacy. When Azad Saheb was a member of the Legislative Council, he once went to New Delhi to meet him in 1960……..

To read other Story books click here- "Story Hindi Books"


"हर शिशु इस संदेश के साथ आता है कि ईश्वर अभी इंसान से थका नहीं है।"
टेगोर
——————————–
"Every child comes with the message that God is not yet tired of the man."
Tagore

Connect with us on Facebook and Instagram – सोशल मीडिया पर हमसे जुड़ने के लिए हमारे पेज लाइक करें. लिंक नीचे दिए है