New Added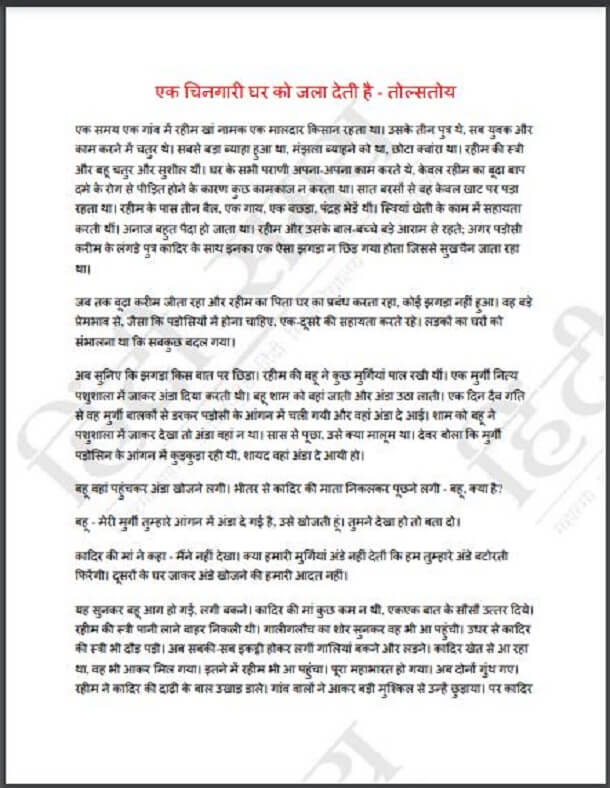 एक चिनगारी घर को जला देती है : तोल्सतोय द्वारा हिंदी पीडीऍफ़ पुस्तक – कहानी | Ek Chingari Ghar Ko Jala Deti Hai : by Tolstoy Hindi PDF Book – Story (Kahani)
पुस्तक का विवरण : यह सुनकर बहू आग हो गई, लगी बकने। कादिर की मां कुछ कम न थी, एकएक बात के सौसौ उत्तर दिये। रहीम की स्त्री पानी लाने बाहर निकली थी। गालीगलौच का शोर सुनकर वह भी आ पहुंची। उधर से कादिर की स्त्री भी दौड़ पड़ी। अब सबकी-सब इकट्ठी होकर लगीं गालियां बकने और लड़ने। कादिर खेत से आ रहा था……..
Pustak Ka Vivaran : Yah Sunkar Bahoo aag ho gayi, lagi bakane. Kadir ki Maa kuchh kam na thi, Ekek bat ke sausau uttar diye. Raheem ki Stri Pani lane bahar nikali thi. Galigalauch ka shor sunkar vah bhi aa pahunchi. Udhar se kadir ki Stri bhi daud padi. ab Sabaki-sab ikatthi hokar lagin galiyan bakane aur ladane. Kadir khet se aa raha tha……..
Description about eBook : Hearing this, the daughter-in-law became on fire, she started crying. Qadir's mother was nothing less, gave a hundred answers of one thing at a time. Rahim's wife had come out to fetch water. Hearing the noise of abuse, she also came. From there the woman of Qadir also ran. Now everyone gathered and started abusing and fighting. Qadir was coming from the farm……..
हमारे टेलीग्राम चैनल से यहाँ क्लिक करके जुड़ें
Check Competition Books in Hindi & English – कम्पटीशन तैयारी से सम्बंधित किताबें यहाँ क्लिक करके देखें
एक चिनगारी घर को जला देती है / Ek Chingari Ghar Ko Jala Deti Hai