कुलपुत्र सुनें : डॉ. विष्णुदत्त राकेश द्वारा हिंदी पीडीऍफ़ पुस्तक – सामाजिक | Kulputra Sunen : by Dr. Vishnudutt Rakesh Hindi PDF Book – Social (Samajik)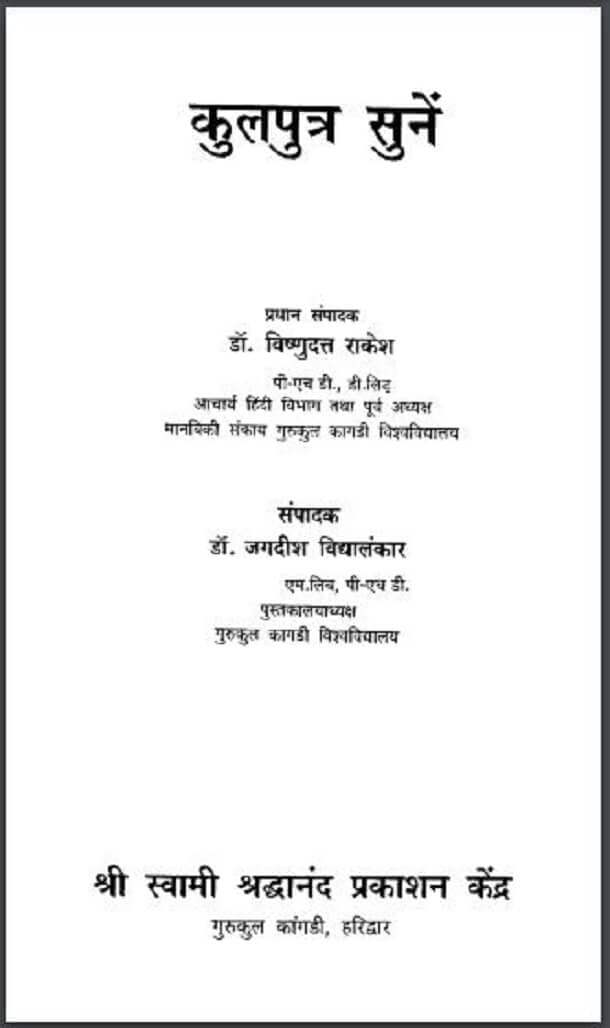 | | |
| --- | --- |
| Pustak Ka Naam / Name of Book : | कुलपुत्र सुनें / Kulputra Sunen Hindi Book in PDF |
| Pustak Ke Lekhak / Author of Book : | डॉ. विष्णुदत्त राकेश / Dr. Vishnudutt Rakesh |
| Pustak Ki Bhasha / Language of Book : | हिंदी / Hindi |
| Pustak Ka Akar / Size of Ebook : | 10 MB |
| Pustak Mein Kul Prashth / Total pages in ebook : | 296 |
| Pustak Download Sthiti / Ebook Downloading Status : | Best |
(Report this in comment if you are facing any issue in downloading / कृपया कमेंट के माध्यम से हमें पुस्तक के डाउनलोड ना होने की स्थिति से अवगत कराते रहें )
Pustak Ka Vivaran : Un‍nisavi Sadi me bharat ke adhakar poorn antariksh mein jin Mahanubhavon ne jagrti ki jyoti jagai uname Rishi Dayanand ka Sandesh bahut vyapak tha, Ve yug pravartak Rishi the, jinhonne shiksha, Rajneeti, samaj-sangathan aadi sab kshetro me naye vicharon ka sandesh diya. Bharat ko videshi shasan se mukt ho svarajy prapt karna chahiye is bat……..

अन्य सामाजिक पुस्तकों के लिए यहाँ दबाइए- "सामाजिक हिंदी पुस्तक"
Description about eBook : In the nineteenth century, the message of Rishi Dayanand was very wide among the great people who lit up the light of awakening in the full space of India, they were the sages of the era, who gave the message of new ideas in all fields like education, politics, social organization etc. India should be free from foreign rule and get Swarajya…….

To read other Social books click here- "Social Hindi Books"


"पत्नी को चाहिए कि पति घर लौटने पर खुश हो, और पति को चाहिए कि पत्नी को उसके घर से निकलने पर दुख हो।"
मार्टिन लूथर
——————————–
"Let the wife make the husband glad to come home, and let him make her sorry to see him leave."
Martin Luther

Connect with us on Facebook and Instagram – सोशल मीडिया पर हमसे जुड़ने के लिए हमारे पेज लाइक करें. लिंक नीचे दिए है