New Added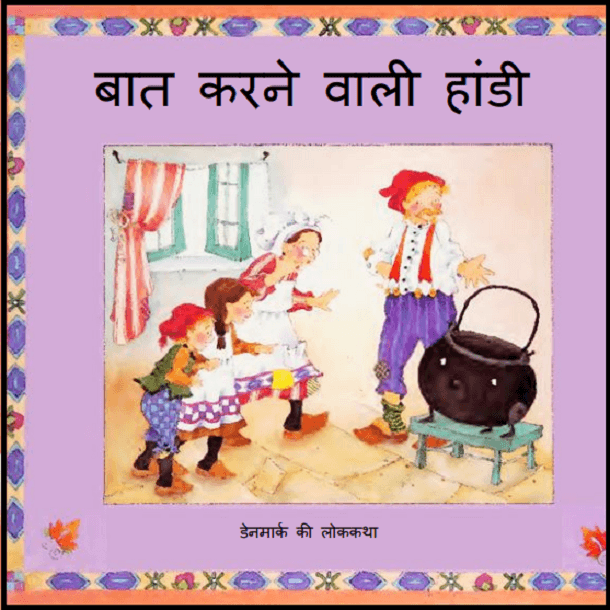 बात करने वाली हांडी : हिंदी पीडीऍफ़ पुस्तक – बच्चों की पुस्तक | Bat Karne Vali Handi : Hindi PDF Book – Children's Book (Bachchon Ki Pustak)
पुस्तक का विवरण : एक समय की बात है कि एक आदमी और उसकी पत्नी एक छोटी सी कुटिया में रहते थे- गाँव की सबसे छोटी और निर्धन कुटिया में. वह इतने गरीब थे कि अकसर उन्हें भूखे पेट ही रहना पड़ता था. घर की लगभग हर वस्तु उन्हें बेचनी पड़ी थी. लेकिन किसी प्रकार वह अपनी गाय के बचा कर रख पाए थे. आखिरकार एक दिन उन्हें लगा बाहर ले आया…….
Pustak Ka Vivaran : Ek Samay ki bat hai ki ek Aadmi aur uski Patni ek chhoti si kutiya mein rahate the- ganv ki sabase chhoti aur nirdhan kutiya mein. Vah itne gareeb the ki aksar unhen bhookhe pet hi rahana padata tha. ghar ki lagbhag har vastu unhen bechni padi thi. Lekin kisi prakar vah apni gay ke bacha kar rakh paye the. Aakhirakar ek din unhen laga bahar le aaya…….
Description about eBook : Once upon a time a man and his wife lived in a small hut – the smallest and poorest hut in the village. He was so poor that he often had to stay hungry. He had to sell almost everything in the house. But somehow he was able to save his cow. Finally one day he felt brought out…….
हमारे टेलीग्राम चैनल से यहाँ क्लिक करके जुड़ें
Check Competition Books in Hindi & English – कम्पटीशन तैयारी से सम्बंधित किताबें यहाँ क्लिक करके देखें
बात करने वाली हांडी / Bat Karne Vali Handi