महाबली दत्तू जमखंडीकर : शम्भुनाथ सक्सेना द्वारा हिंदी पीडीऍफ़ पुस्तक – कहानी | Mahabali Dattu Jamkhandikar : by Shambhunath Saxena Hindi PDF Book – Story (Kahani)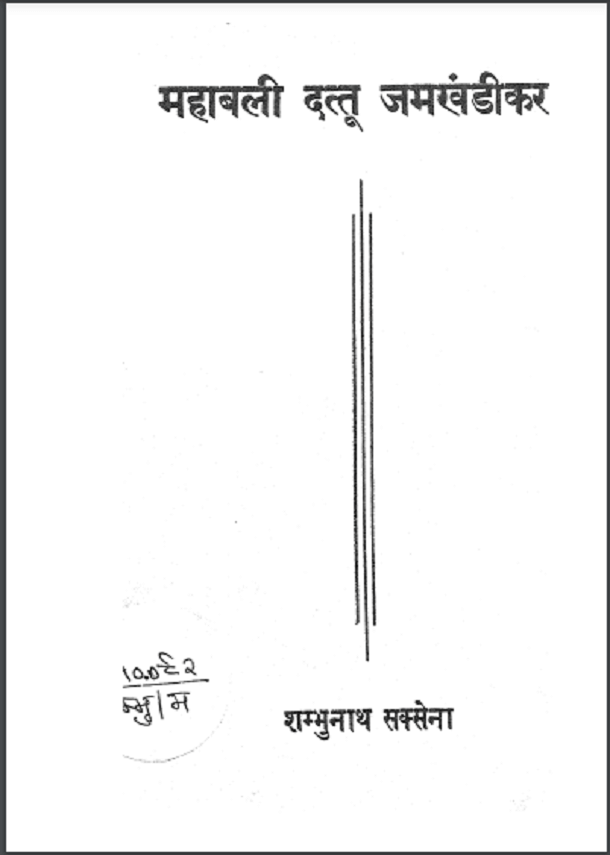 | | |
| --- | --- |
| Pustak Ka Naam / Name of Book : | महाबली दत्तू जमखंडीकर / Mahabali Dattu Jamkhandikar Hindi Book in PDF |
| Pustak Ke Lekhak / Author of Book : | शम्भुनाथ सक्सेना / Shambhunath Saxena |
| Pustak Ki Bhasha / Language of Book : | हिंदी / Hindi |
| Pustak Ka Akar / Size of Ebook : | 21 MB |
| Pustak Mein Kul Prashth / Total pages in ebook : | 127 |
| Pustak Download Sthiti / Ebook Downloading Status : | Best |
(Report this in comment if you are facing any issue in downloading / कृपया कमेंट के माध्यम से हमें पुस्तक के डाउनलोड ना होने की स्थिति से अवगत कराते रहें )
Pustak Ka Vivaran : Kabhi-kabhi Toli-Mohalle mein kuchh aise hastiyan nikal aati hain, Jinke sath us Mohalle ki Gathayon ka itihas jud jata hai. Us Itihas ki Punaravrtti samay-samay par huya karti hai jisase Mohalle ke beech ek Zindagi bani rahati hai. Kuchh log aise hastiyon ke bal-parakram par hans dete hain. Kuchh unki khil‍li udane mein bahumooly samay…….

अन्य कहानी पुस्तकों के लिए यहाँ दबाइए- "कहानी हिंदी पुस्तक"
Description about eBook : Sometimes some such personalities come out in the locality, with whom the history of the stories of that locality is added. That history is repeated from time to time so that a life remains in the middle of the locality. Some people laugh at the strength and valor of such personalities. Some valuable time in ridiculing them…….

To read other Story books click here- "Story Hindi Books"


"यदि आप अपने जीवन को अपनी मर्जी के अनुसार नहीं चला पाते, तो आपको अपनी परिस्थितियों को अवश्य ही स्वीकार कर लेना चाहिए।"
टी एस एलियट
——————————–
"If you haven't the strength to impose your own terms upon life, you must accept the terms it offers you."
T S Eliot

Connect with us on Facebook and Instagram – सोशल मीडिया पर हमसे जुड़ने के लिए हमारे पेज लाइक करें. लिंक नीचे दिए है